50 East Coast Road #02-46 Roxy Square 1 Singapore 428769, Tel: 6345 3147
SMS / WhatsApp: 8699 5629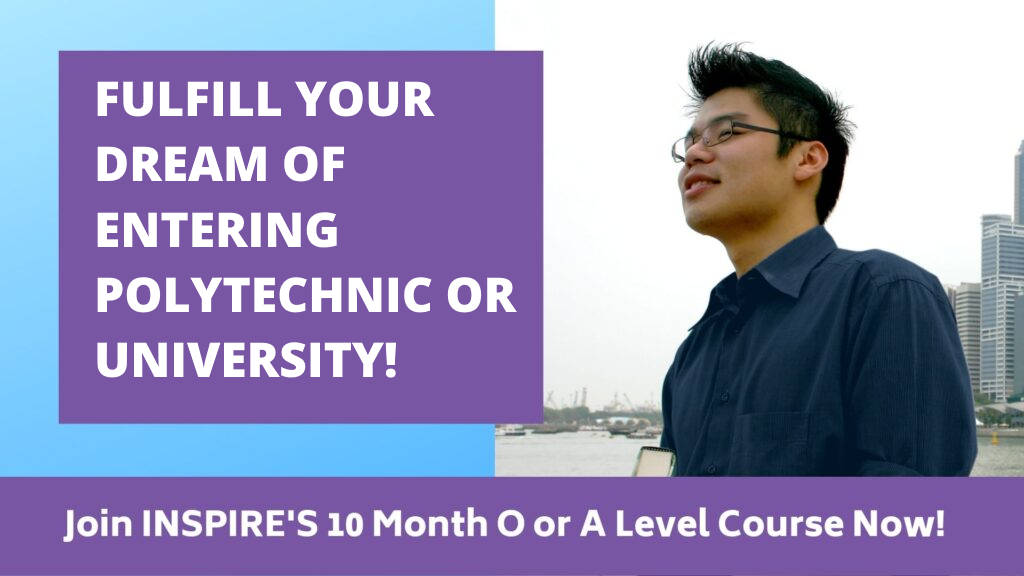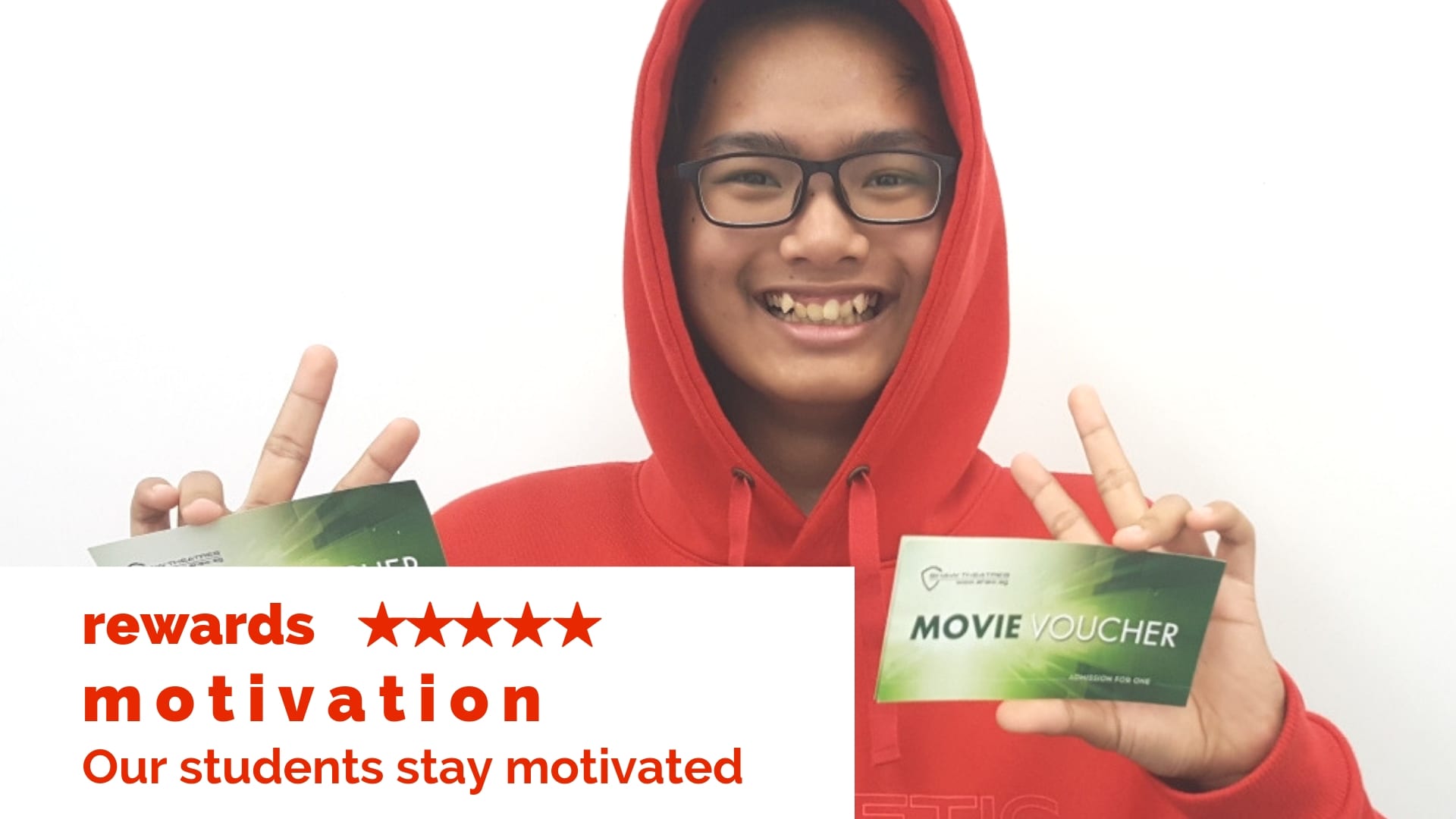 Our students have entered…
National University of Singapore
Nanyang Technological University
Singapore University of Social Sciences
University at Buffalo
Singapore Polytechnic
Temasek Polytechnic
Republic Polytechnic
 Ngee Ann Polytechnic
Victoria Junior College
… and more
AYESHA

Before: 5Ds
After: 5As
"Thank you for the guidance in strengthening my O Level foundations and for helping me choose my subject combination."
(2019 O Level alumna, entered Victoria Junior College)
JUN HNG

5As after retaking A Levels at Inspire
"T
he guidance from my tutors really motivated me to keep on fighting for my dream. I was able to take on the A Level exams once again and perform much better than my first attempt.

"

(2021 A Level alumnus. Entered Medicine Programme at NTU)
JUN XIAN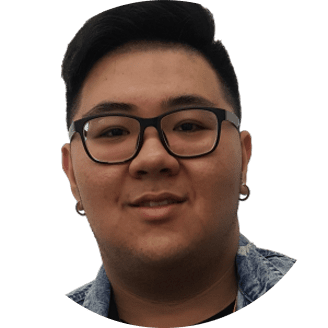 2As and 3Bs
"I am really grateful for all the help and encouragement to achieve my best grades so that I can get into my choice of course for polytechnic."
(2018 O Level alumnus)
ALLISON

"My teachers at INSPIRE taught me to have more confidence in myself, they were patient and understanding."
(2021 A Level alumna, entered History Programme at NTU)
ZHAO XING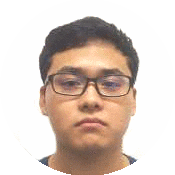 Before: 19   After: 13 (L1R4)
"Thanks to INSPIRE, my grades improved tremendously. I am elated to enter my dream course in polytechnic!"
(2016 O Level alumnus)
CHENG YEE

"Impossible is spelt 'I M Possible'. If I can do it, so can you."
(2020 A Level alumnus, entered Humanities and Science Programme at NUS)
Our dedicated teachers who truly care
Powerful O Level success stories
– From 5Ds to 5As after retaking O Levels with INSPIRE! She successfully applied to Junior College. [Read]
– He failed English and was hesitant at spending another year to re-do his O Levels. At INSPIRE, he improved his L1R4 from 21 points to 17 points. [Read]
– His journey from NA Level to O Level (2As and 3Bs). [Read]
– He fell short of the admission requirements for Polytechnic with his Higher Nitec score. With INSPIRE he scored 20 points to qualify. [Read]
Powerful A Level success stories
– Science subjects didn't work out for him. Switching to A Level History and Business got him into a local university. [Read]
– He was not satisfied with his A Level results in JC. Retaking A Levels at Inspire, he managed to obtain 5 straight As.  [Read]
– Home schooler achieved 1A and 2Bs at his first A Level attempt! [Read]
– She studied overseas and had no prior experience with Singapore's local curriculum. Inspire's 10-month course gave her the confidence to pass all of her A Level subjects on her first attempt.  [Read]
– His diploma's GPA was insufficient to qualify for university, but taking A Levels at INSPIRE allowed him to enter a Business course. [

Read

]
– He rediscovered his passion and aptitude for English while studying at Inspire and got accepted into a Linguistics course. [Read]
– Unfamiliar with A Levels, she struggled as a private candidate. She persevered and managed to enter university after passing her A Levels on her second try. [Read]
Our latest blog posts and articles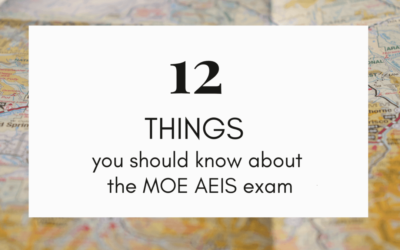 If you are looking for information about Singapore's local public school admissions for foreign or international students, this guide will help you. 12 Things You Should Know About Local Public School Admissions in Singapore What is AEIS? What subjects are...
Inspire Education Centre
50 East Coast Road, #02-46, Roxy Square 1, Singapore 428769
Tel: 6345 3147 | SMS/WhatsApp: 8699 5629
MRT and bus services to our centre
Nearest MRT stations: Paya Lebar, Eunos, Dakota
Opposite Parkway Parade Bus Stop 92041: 15, 31, 36, 43, 48, 134, 135, 196, 197, 541, 966, 853* (weekend only)
Roxy Square Bus Stop 92119 : 10, 12, 14, 32, 40
Directions to our centre:
– From East Coast Road
Walk into Roxy Square 1 shopping centre next to The Flow Mall. Take the escalators located outside to reach the 2nd floor. Keep walking straight until you see a large staircase on your right, we are located next to the staircase.
– From Marine Parade Road / Parkway Parade:
Walk into Roxy Square 2 shopping centre next to Grand Mercure Roxy Hotel. Take the first escalator you see on your right to the 2nd floor. Turn left and keep walking straight until you find a small staircase on the right that connects to Roxy Square 1. Continue walking straight, we are located on the left row next to a large staircase.